Delivering New Value to the World through our Global Network of More Than 2,000 Companies and Cross-Boundary Collaboration
1. Beyond Company
We collaborate beyond company boundaries. While it is difficult for a single company to expand its business areas, we can develop new markets and products more smoothly through collaboration. We can also take advantage of our Innovation Center to jointly develop products.
2.Beyond Group
Through Sumitomo Corporation Group companies, we have built a network of approximately 2,000 cosmetics manufacturers and approximately 250 suppliers in Japan and overseas, introducing overseas raw materials to Japanese customers and, conversely, delivering Japanese raw materials to overseas customers. Utilizing the network with these group companies' suppliers and customers, we provide high-quality products to the world with our planning ability beyond the group companies.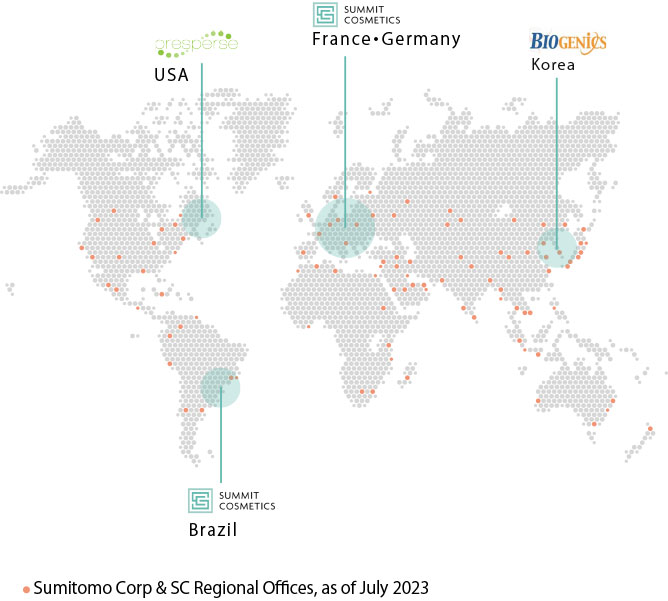 3. Beyond Industry
We do not only work in the cosmetics industry, but also step into other industries. Specifically, we expand into new fields such as upcycled products made from food industry residues (banana peels, used coffee grounds, etc.).
Summit Cosmetics, together with its overseas cosmetic material sales companies (Presperse in North America, Summit Cosmetics LATAM in South America, and Summit Cosmetics EU in Europe), is committed to "development," "proposal," and "speed" in order to respond to the rapidly changing market and customer needs.
In addition to functionality, the cosmetic ingredients handled by our group are mainly "green products" selected for their natural origin, traceability, and environmental impact, which are in increasing demand both in Japan and overseas.